The Loony Left claims they are the 'true' followers of 'THE SCIENCE' and that all 71 MILLION Republican voters are ignorant, deplorable, xenophobic, SCIENCE DENIERS. Let's look at some ACTUAL SCIENCE.
You've no doubt heard of new VACCINES that are about to become available.
What exactly is a VACCINE?
I learned about the concept of VACCINES back in THIRD GRADE. It was noticed that MILKMAIDS who had contracted COWPOX never contracted the deadly disease SMALLPOX. SMALLPOX had a death rate of 30% of people who contracted SMALLPOX DIED. In comparison, the China Virus (SARS-CoV-2 or Covid-19 or simply Covid) has a death rate 0.778%. Back to SMALLPOX. Volunteers were inoculated with COWPOX (as a VACCINE) and they became IMMUNE to SMALLPOX, even when exposed YEARS LATER.
How does this inoculation with a VACCINE work?
A VACCINE has a protein that 'mimics' the VIRUS that you are getting inoculated against. The human body recognizes this protein as a foreign invader and triggers an IMMUNE RESPONSE, creating ANTIBODIES to destroy the invading VIRUS. This immune response and creation of specific ANTIBODIES is what happens when the ACTUAL VIRUS enters the body. This is why people recover from the China Virus without a VACCINE. The human body still has the ANTIBODIES, once it has recovered and a reinfection is almost IMPOSSIBLE. You may have heard that there is ANTIBODY testing to determine if a person had contracted the China Virus in the past. The test looks for the specific ANTIBODIES that the body created to fight off the China Virus.  As an interesting side note, researchers at the Italian Cancer Institute looked at blood sample collected from patients in 2019 and they have identified Covid ANTIBODIES as early as September of 2019, well before China reported any infections in Wuhan. Naturally the Chinese government was quick to seize on this news and blame the Italians for starting the PANDEMIC.  "Look over there, don't look at China!".
SO, given this quickie background on ACTUAL SCIENCE, why doesn't the 'GOVERNMENT' (Federal, state, county, city) issue what I call an "I-card" for anyone who had a POSITIVE Covid Test, at least 14 days old, and no longer shows symptoms of infection? They have the ANTIBODIES and therefore CANNOT CONTRACT THE VIRUS again and CANNOT SPREAD the VIRUS! The name "I-card" can stand for 'IMMUNITY' or if you're a 'good' Catholic such as Bumbling Biden, it might stand for 'INDULGENCE'.  Anyone who holds an "I-card" does not need to wear a mask, can go to a gym, can eat indoors, can travel freely, can celebrate the holidays, can get drunk off their ass in a bar, is exempted from any lockdown order, and can socialize in any size group, with anyone they please because they CANNOT BECOME INFECTED NOR SPREAD the disease.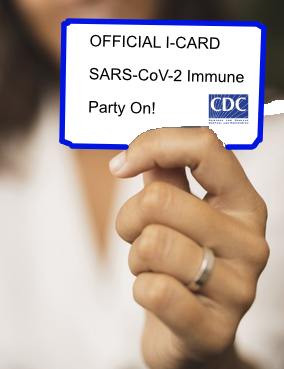 This is SCIENCE and it is indisputable.
If you demand we 'FOLLOW THE SCIENCE' then dammit, FOLLOW THE SCIENCE.